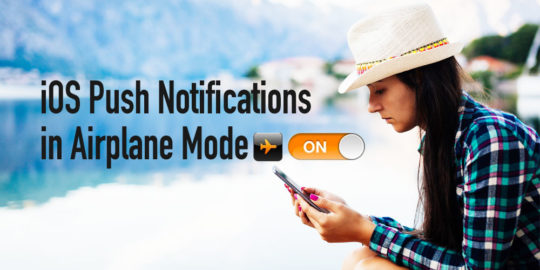 I work a lot with the cruise ship industry, and one of the more interesting challenges we run into is that often there are user-facing systems that have to work without an Internet connection. I've designed applications that are supposed to work in a mine, or on a plane, and then later sync with the cloud, but building something that might not have a web connection for three days through the fjords is a little different.
We've been looking into sending local notifications without any Internet access at all – from a server installed locally on the ship, to an app on a crew member or guest's personal device. The basic idea is that an app, installed on the phone or tablet, can send a "local push notification" or "background push notification" to the operating system. Even if the app is not in the foreground, or the phone is asleep, the notification should wake the device up, and present the user with a message. This is exactly the same as a standard push notification (think Facebook or calendar notifications), but instead of using Apple's push server, you are using an app itself to send the message. The problem is how do you trigger the app to do something in the background? The app has to wake up in the background, contact the local server, check for messages, download any available message or content, and then alert the user if it found anything.
There are a couple of ways to trigger a background application to do something for you. The two we looked into for our purposes were "Location Updates" and "Background Fetch"
Our limitation here is obviously the cellular modem will be turned off (Airplane mode) because there either is no cell tower around, or you don't want your passengers paying international data roaming fees. There are other ways to trigger a background app action, but they mainly involve things like plugging in headphones, managing VoIP calls, and mainly Internet-requiring services. You can read more about the available options here: http://apple.co/29288f1
Option 1. The background fetch function appears to be the best option for this kind of app. This is something we've used in the past, but never had to worry about sans-Internet issues. The way background fetch works is the operating system puts your app into a queue of other apps asking for background services. The queue is processed based on which apps have the best efficiency. Apple does not really go into details, but it appears that the less data and the less battery your application uses in the background, the more frequently your app will be given background privileges (http://apple.co/291iAkd).
However, the problem here was we didn't know exactly how efficient the application will be before we build it and start tuning it. So we built a prototype. While plugged in to a charger, it was able to receive messages every 10-12 minutes. Unplugged it was able to check the server only ever 20 minutes.
Option 2 (Augmentation). So in order to augment the inconsistent/unknown response time of the background fetch, we looked at the location updates. Location Updates are a way of triggering a background function when the device detects "a significant location change". The idea is that if the phone detects movement that is "significant" (whatever that means) it will trigger your app. This is not exactly well documented but through some research and some experimentation it appears that "significant" means 1000 meters. This would be perfect for us, because seeing as while on a cruise you are probably moving 10 meters a second, we could have the app update every minute and a half. That would be an additional update cycle to cut down on the 10-minute maximum update cycle. The problem is that this measurement is tracked using the cellular antenna, and not the GPS! After a fair amount of banging our head on the desk, we gave up on Option 2.
As far as I know, planes and cruise ships are going to be relegated to the notification abyss for the time being. Without reliable Internet access, devices can't get timely push notifications. The limitations on local push notifications while in airplane mode might be ok for notifying crew about training drills and passengers about dinner times, but it would not be reliable enough for emergency notifications.